Indoor playgrounds, also known as the indoor jungle gym, are specifically designed for kids to play in and have tremendous fun with. Today, it has evolved from simpleindoor climbing toys to multifunctional family entertainment center ideas that include innovative used indoor play equipment serving different age groups.
Most of the investors know that kids indoor play area is quite profitable, but they lack knowledge of this industry.  Facing so many types of jungle gym equipment, they do not know how to choose and make the most attractive children indoor playground.  Wonka playground provides a full list of toddlers soft play equipment, even you are new to this kind of business, you will clearly select suitable ones.
In general, indoor play equipment can be divided into three area: indoor wooden play structure, toddler jungle gym, and open space area;  therefore, our introduction also starts from these aspects.
1. Indoor play equipment for the indoor wooden play structure
The traditional soft foam play structures are indispensable to an indoor playground. They can be as simple as a small soft play structure with basic play events like the toddler trampoline with slide and ball pit with slide for toddlers, or a complicated multi-level adventure play systems that include hundreds of play events and features custom-built theme elements.
Here is the list of  play activities in the play structure:
Ball Blaster games
ball blaster games, also known as foam ball blaster, provides a dynamic and interactive multi-level platform for kids to play ballistic ball battle in. It features fun ball shooter gun with safely vacuum cannons and blasters that launch countless nerf ballistic balls all over the fields. Not only boys like this interactive game but also girls like it so much. Entertainment playground with ball blaster arena commands a higher attendance and receives more repeat visits. Wonka playground provides metal guns instead of plastic guns, matching 500 foam softballs for each gun. The below is a list of indoor play equipment  in ballistics game:
Ball fountain: When the button is pushed, the ball fountain blasts countless foam balls up into the air, forming a rain of balls.
Specification:Size: 120cm*206cm(H),Voltage: 220V,Weight: 102 KG Power: 750W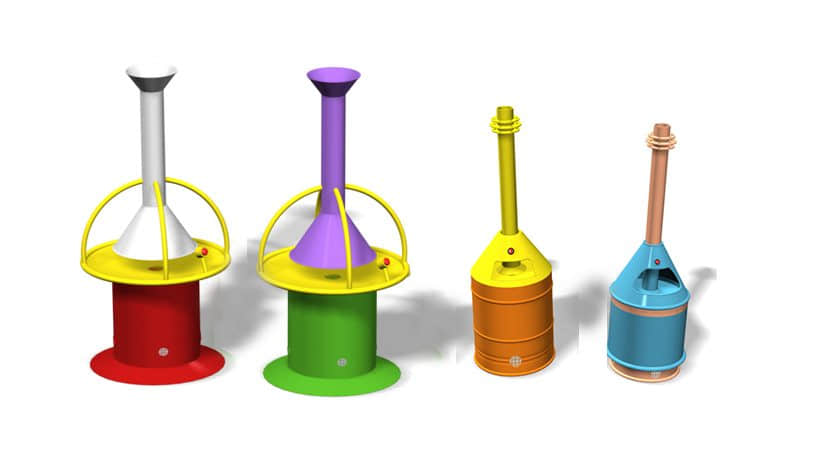 Ball dumping basket: Once it's full, the ball dumping basket dumps hundreds of foam balls from above, falling on the player's heads like the waterfall. Kids and adults will scream and laugh when attacked by so many balls.
Ball dumping basket is comprised of 2 parts, the basket, and a ball transport machine. Specification: Size: Basket 160cm(L)*83cm(W)40cm(H)/Frame 94cm(L)*12cm(W)*90cm(H),Weight: 62 KG,Voltage:24V,Power : 15W
Ball floating table: it is an interesting scientific experiment of air, there are several slots on the table that blows air up when you place a foam ball on the slot, the ball will float in the air.  It combines fun and science in the playground. Specification: Size: 120cm* 120cm,Weight: 90 KG,Voltage:220V,Power: 750W
Nerf ball cannon: it blasts as many as 30 foam balls in a single shot, and beat opponents like a storm.  it creates the most excitement in your ball play playground.
People install the ball shooting cannon on the ground because of its large weight. Specification:weight:146kgs.
Single shot ball blaster: it is reloaded after each shot, it's the basic ball guns of a ball blaster playground and can be either mounted on the fence or mounted on a stand which is an optional accessory of the blaster.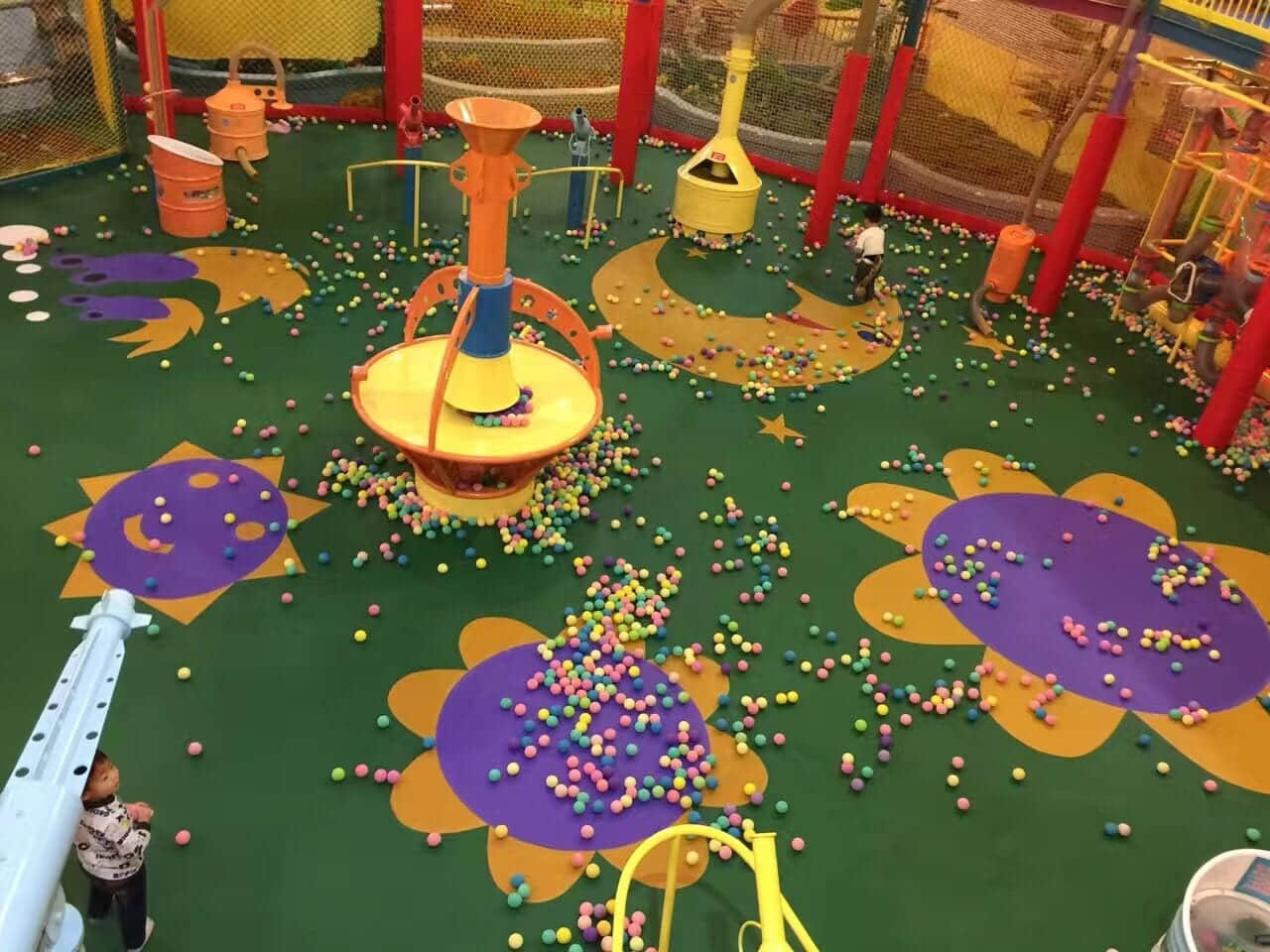 Trampoline
Indoor trampoline parks for sale is one of the basic soft play equipment in kids play center. Jumping on the trampoline, children will stay upright and go to a greater height. As they work out their whole body, kids will develop better fitness, balance, and coordination. Parents no need to worry about safety because we have fences around and soft cover.
Trampoline park is no doubt very popular around the world. It includes appropriate activities in dynamic and safe surroundings by utilizing exercise & cooperation oriented fun places. Trampoline parks have many different functional areas, if you want to to know details, please click: introduction to trampoline park
Soft play ball pits
Ball pool is a must-have for all indoor playgrounds, it is simple but creates fun for kids,  kids like to slide into the ball pool and surrounded by hundreds of colorful balls. It is a good memory of childhood and happiness. The diameter of the ball is 8CM and made of PVC. 500 pieces balls are for one square meter ball pool. The ball pit with slide for toddlers can be designed, like round, square, tube and other designs.
Besides, cartoon images can be added to the outside of soft play ball pits, they can be customized.
Bridge
It is a necessary kids obstacle course equipment to connect different parts, so the bridge is the best connecting. There are the plastic arch bridge, U shape bridge, iron bridge, rope bridge, single beam bridge, soft arch bridge and tunnel bridge. All these bridges are dangling, so it is challenging for children to go through, which can enhance kids courage.
Slides 
Slide indoor is a popular attraction for kids; no matter big or small area, children love to go up and slide down, exciting and fun. For material, there are plastic and fiberglass. Some customers think the plastic material is better than fiberglass, actually, it is not like that. If the frame structure is not high, we usually use plastic indoor slide; if it is high multi-level, we must use fiberglass ones, because of no plastic mold for long slides.
There are many types of toddler indoor slide: single slide, double slide, three strips slide, giant super slide, crazy slide. If your area size is big enough, high and wave childrens indoor slide with different colors are no doubt the best indoor play equipment for your indoor playground.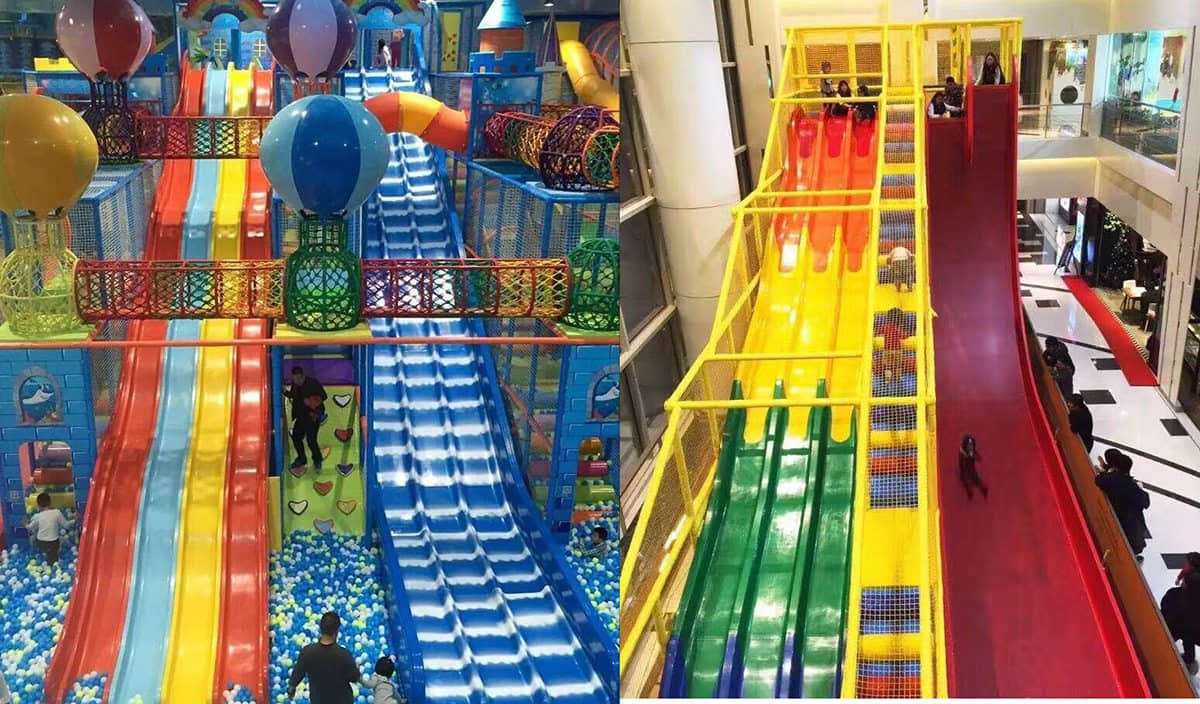 Donut slide
The donut slide is a different alternative to the indoor slides for toddlers. The child slides down using a donut similar to how a child slides down the hill in winter. The most popular indoor play equipment and spotlight for indoor play center now. There is one road/ladder to go up, the other side is a sliding board. It is a very exciting experience when children sit inside the raft boat and slide from higher level to ground. The basement of the sliding board can be plastic plate or grass, they are small friction between raft boat, so children can slide down very fast.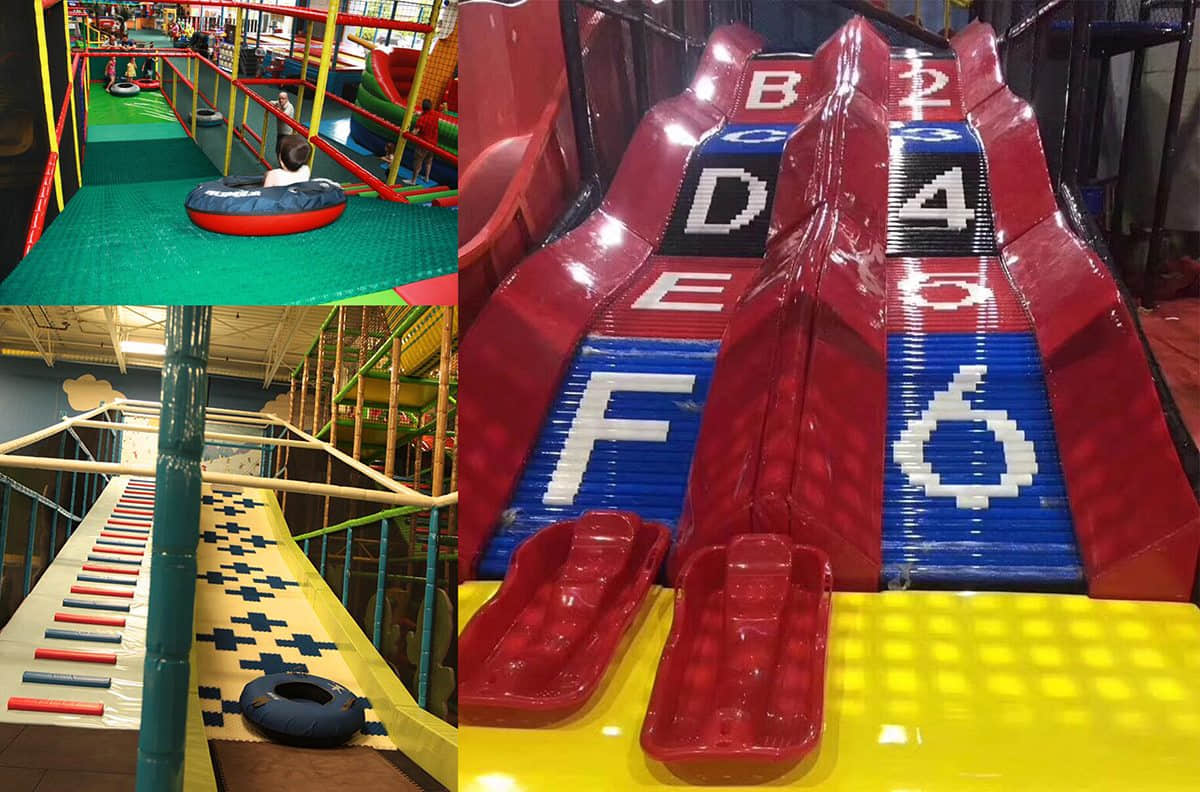 Net rope
It is a new and hot indoor play equipment now. Creative design, various colors, different shapes, and flexible combination make net rope popular and attractive. It can be inside the frame or outside it connecting with other play games. Some playground will make one independent net rope community, looking like a birds nest.  It is made of iron and fishing rope, totally handmade.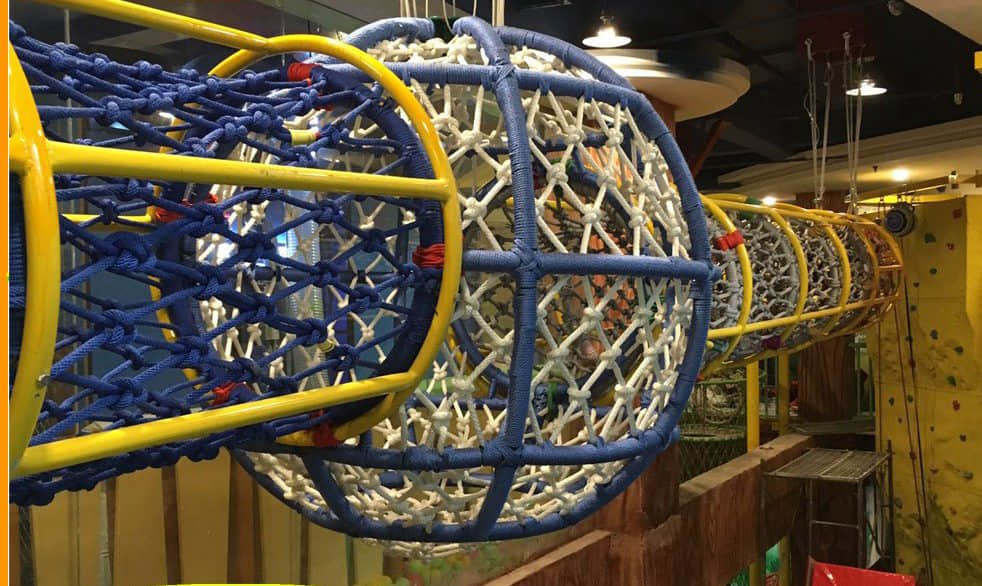 Crawl tunnel
This indoor play equipment is also common to see inside play center.  It requires physical strength and patience to crawl from beginning to end of the tube. Children feel like seeking the mysterious world when they are inside and will feel glad after going out of the tube. There is the straight and spiral shape of the tube. The material is usually plastic and net rope.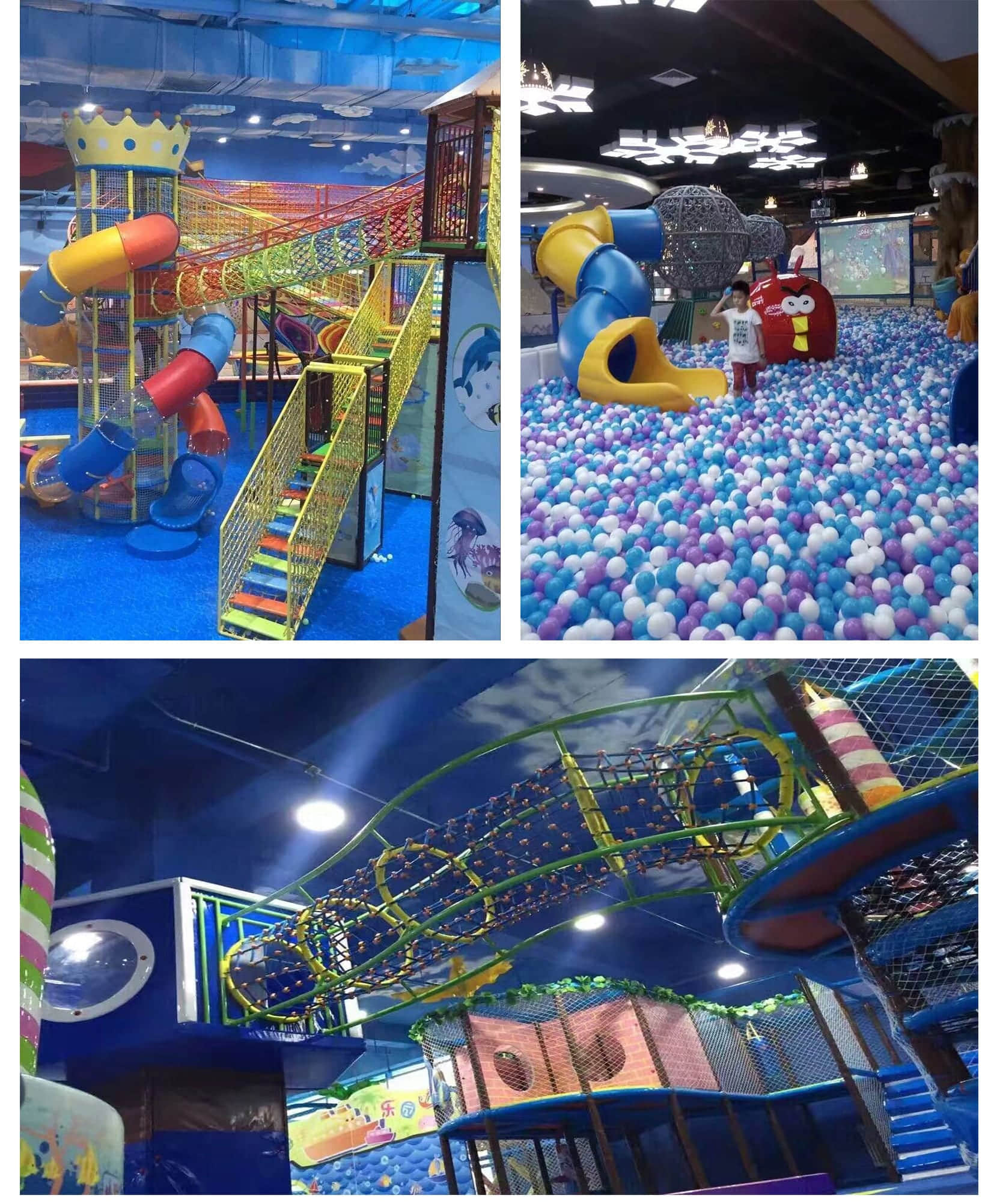 Soft Obstacles
A variety of soft obstacles with different shapes can be put in your play area.  These soft obstacles will make well use of empty space and add fun and challenges to the whole play area. Children will encounter different kinds of obstacles and come through them. These soft obstacles make them often come back and play.
Other basic parts
In the frame structure game, there are other important play events, like platform, ladders. Without these elements, children cannot stand on or go up, go down; Without denotational roofs, windows, and other decorations, the whole frame games will not so beautiful and attractive. We will customize based on your play area theme and play functions.
2.Toddlers soft play equipment for the toddler area
The toddler area is for children under 5 years old. Toddlers are at learning age and curious about new things, so toddler indoor play equipment should be a bright color, safe and educational. Therefore, roleplay houses, painting, and educational play panel are very good indoor play equipment.
In the roleplay houses, children will learn basic rules of life and act like their parents in real life; In painting area, children will finish painting with their imagination, or parents can play together to enhance interactions with their children.
The play panels are made of solid wood and finished with the environment-friendly coating, making them highly durable and easy to maintain. It combines educational values with fun play, suitable for 1-5 years old kids at preschool and school age.
In addition, the soft play features bright color and cute design, it's made of children-friendly wood, foam, and  PVC. children will sit, climb, crawl with them, these adorable designs will make your themed indoor play area more attractive!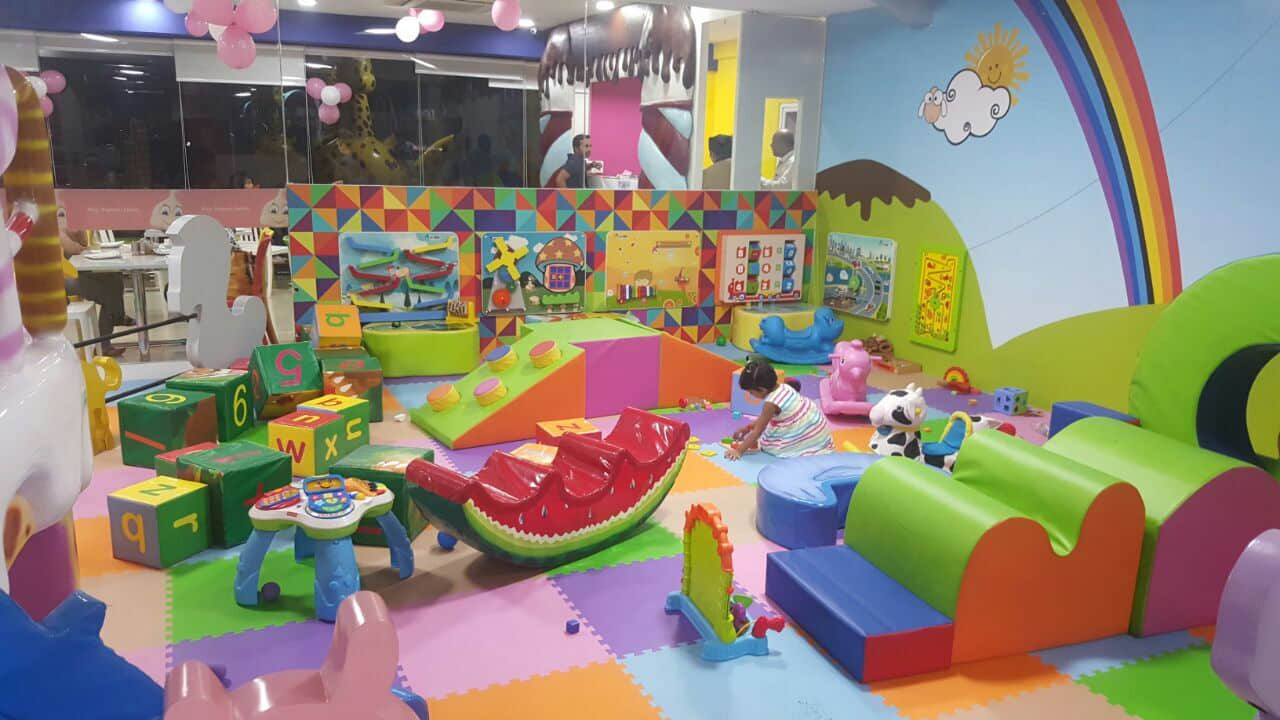 3.Indoor play equipment in the public open area
Public open area means no frame structure, but its indoor play equipment is totally different from toddler areas. A variety of play games, like electric soft play, inflatable castle, volcano slide,  climbing wall and sandpit, add the highlight of the whole open area.
Electric soft play
As opposed to the static soft play, electric soft plays equipped with electronic components such as the motor, LED lights, speakers, and sensors, thus offer greater interactivity and more engaging play experience.  The outside sparkling PVC vinyl gives a polished and high-end look. Also, our qualified motors ensure stable and smooth operations and require less maintenance.
There are different types and  designs of electric soft plays:
Vertical axis merry go round
The most classic representative is the Coconut tree.  Children sit on the ball seats and go around in a circle, experiencing a fun and entertaining feeling. We can also make other images and designs based on your play area theme.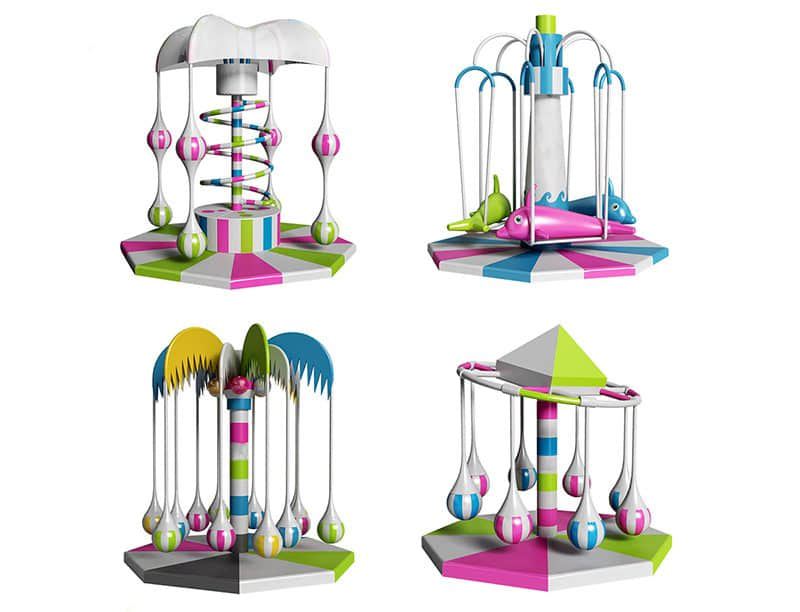 Mini  Carousel
The mini carousel begins to rotate when connecting to power. Children are curious about these cute designs and sit on, it is good for children to keep balance and independence.  This indoor play equipment will be a great addition to the indoor play centers and toddler play areas. It has adorable kinds of seats, like animals, fruit, peanuts, and cakes.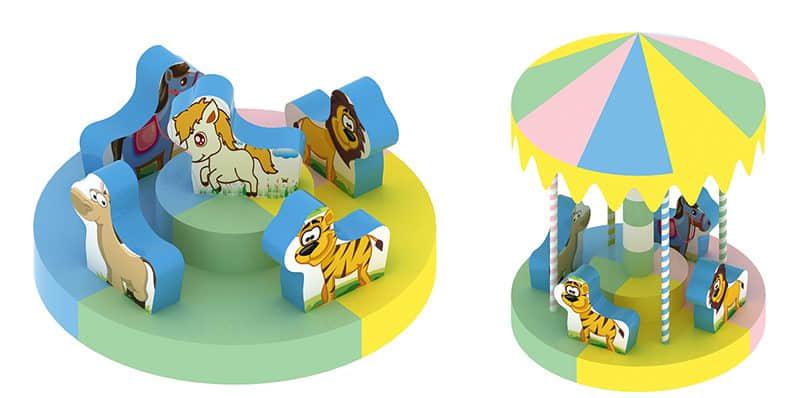 Inflatable merry go round
The huge inflatable octopus is cute on the look and soft to the touch, children love hopping on and off, and have fun spinning with it.
On the soft basement, there is an inflatable bag, in the middle is the lovely bear, waving its hand; and children climb on it, hug and embrace it. Many other customized designs, for example, rocket, boat, plane. The inflatable parts and thick surface padding ensure the children's safety as they hop all over the place.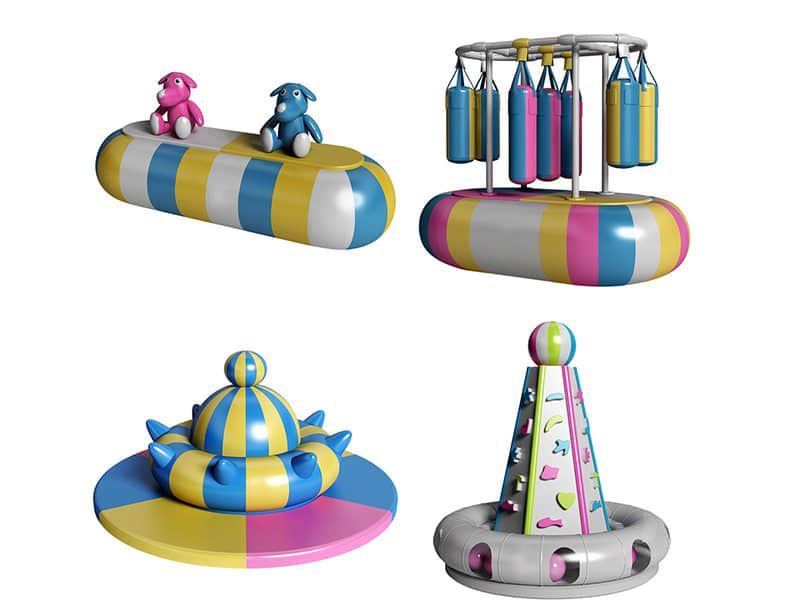 Rotating roller
Children go into the roller and gyrate, forgetting space and time, therefore, It is a good way to stimulate their organ and improve adaptability.
All these electric games, combining with static indoor play equipment,are  great additions to the indoor play centers, creating an abundant environment for children.
Volcano slide
The volcano slide is a kind of indoor play equipment combining
a climbing wall and slide. The children climb the volcano hold using the grips installed on the platform above. From the platform, the children can go down the slide or climb back down the volcano. The volcano can be round shape,half-round shape or one-fourth round shape depending on your site size. Besides, the slide is fiberglass material or plastic one. The higher of volcano platform, the longer of the slide. Volcano slide is easily the centerpiece of your play area.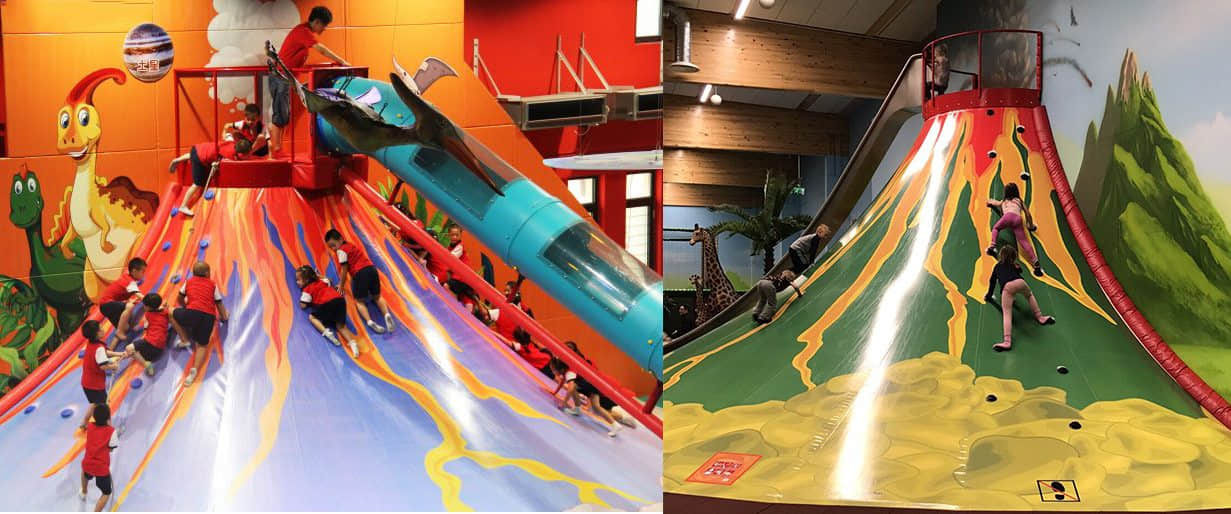 Playground climbing wall
There are mainly two kinds of material of climbing playground: one is softly padded timber, the other is fiberglass.
The soft climbing is made of softly padded timber pads, themed paintings on the surface, and the steel pipe frames supporting on the back. The climbing steps can be all kinds of shapes and they are part of the themed picture. We also design soft flooring mats. These indoor climbing toys are not only a challenge but also a good sport for kids have fun and relax.
The fiberglass climbing wall can incorporate interactive LED lights which could sense players move.  climbing steps are all kinds of colors and they are dotted irregularly on the surface of the surface of the rock. The soft padded landing mat is included.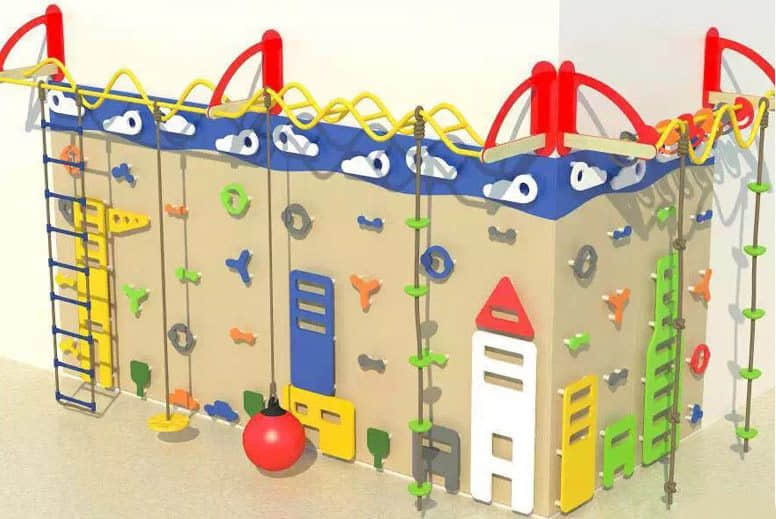 Sandpit
The sandpit is soft boundary with the high fence around, and sand inside, kids will play sand and seek treasure using sand toys.  Now, projector interactive sandpit appears in the market. The interactive projection game uses video motion capture and identification to identify the position and movement of the players as they interact with the game. A great addition to various play centers, adding more popularity to the playground.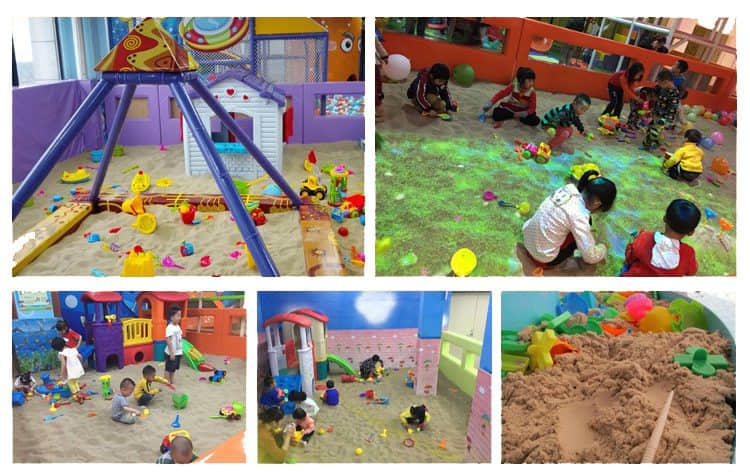 Generally speaking, there are so many interesting types of indoor playground equipment for children playground. From the above list, I believe that you will have a clear guideline on choosing indoor play equipment. Actually, these indoor play equipment are renewing very fast,  drawing kids from miles away and keeping them coming back, we will update in time for you.