trampoline park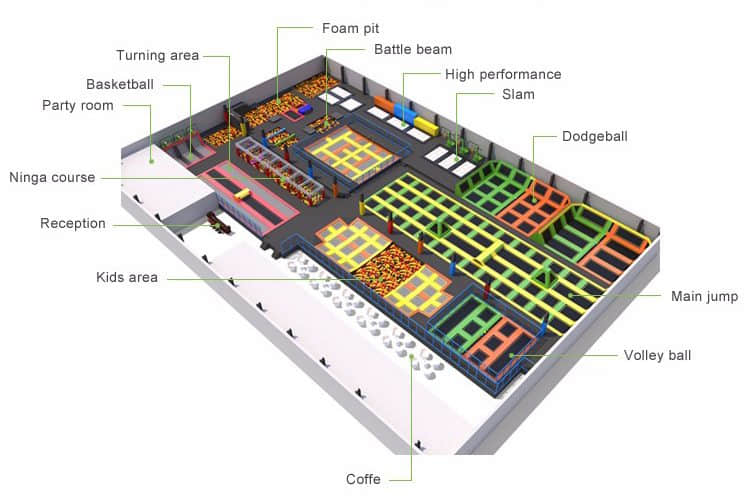 Introduction to a trampoline park
Trampoline parks are one of the fastest growing parts of the indoor playground and recreation industry. The trampoline park not only encourages exciting bonding time with friends and family, but it also be a source of exercise to improve health. Jumping on a trampoline is an excellent way to make your entire family happy and healthy.
1. Material and specification of the trampoline park
Pipe: Galvanised Steel, Galvanised Stainless Steel Springs,
Padding: EPE, waterproof closed-cell foam, not easy to lose shape
Frame and legs: 80*80CM, thickness 3mm, Galvanized Steel, Color Powder Coated
Packing: Cotton Plastic Film, Carton, Woven Bag
Safety Net: polyethylene or polyester materials
Jumping Mat: Made of PP import from America, Color in black and blue
Warranty: 5 years on a metal frame,  2 years on jumping mat, 1 year on springs and padding
Installation: Professional and CAD instruction, Manual book, Videos
Application: Amusement Park, Indoor Themed Park, Super Mall,  etc
 2. Play zones of the trampoline park
There are different play zones in trampoline parks, so people can experience challenge and fun in it.
Dodgeball Zone
Dodgeball needs team cooperation more than your personal strength and skills. Two teams line up against each other on the trampoline with angled trampoline walls. The rules are simple: if you hit an opponent with a ball, he will be out. There can only be one winner. Have fun and excitement with Air attack, Dodge, and bounce!
Slam Dunk area
Do you want to dunk like a real NBA basketball player? Come to play in the trampoline slam dunk area, it will make your dream come true! With the help bouncing force on the trampoline, you can easily slam dunking, which makes you become a real NBA MVP player.
Foam Pit
Come to enjoy extreme moves in foam pits! It is for all ages.  Somersault, flip, and fly into a bed of foam and bounce right back up, it is a very cool experience!
The foam cubes are available in a full-color range, so players love to jump into it and lay surrounding by colorful foams. In addition, you can put rock climbing nearby, players will enjoy the excitement jumping from the air into foam pits,
Air Bag zone
Fly in the air and land safely on a cushion of air, isn's it a special experience?  So come to airbag zone, it provides a safe landing platform cushioned by pockets of air.
Pyramid
Trampoline pyramid is made up of four trapezoid mats. Players jump to the pyramid and then bounce back, if you are professional enough, you can do more cool actions like flip, rotation and so on.
Free jump area
The study shows that jumping in trampoline five minutes consumes the same calories as people thirty minutes in treadmill, jumping ten minutes in trampoline consumes the same calories as jogging for half an hours, so it is definitely the best choice for those who want to shape body and lose weight.
In free jump area,  there is various trampoline aerobics fitness lesson for people who need to shape body, lose weight and get relaxed after stressed work. So long-term trampoline sports is good for the body's metabolisms and reduce the risk of fat.
Professional Trampoline zone
Known as gymnastics trampoline, it is designed for gymnastic athletes. You can achieve a series of aerial tricks by its jumping ability.
Besides, there are also other interesting play zones for trampoline parks, like cage ball, climbing wall, spider tower and so on.  All of these various zones makes fulfill people requirements and keep it charming.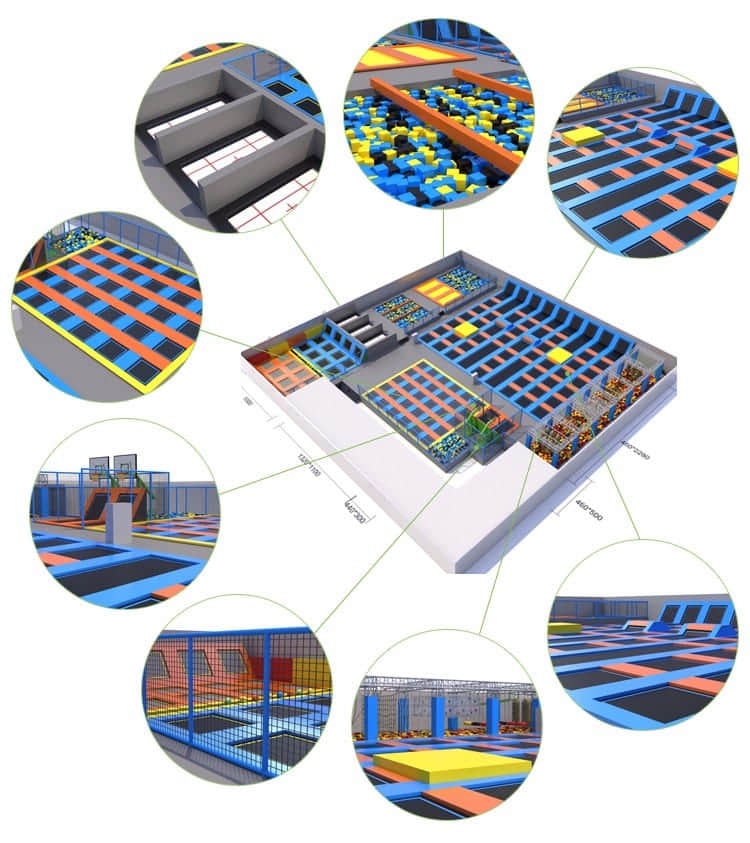 To summarise,trampolie park is not only for fun as well as potential health benefits. Therefore, trampoline park business is prosperous market as long as it has different functional zones.