Different from the traditional indoor play structures, the biggest advantage of interactive games lies in its interactivity. Instead of just playing in a confined space, children are able to exercise more freely throughout their body. As a result, interactive projector games are hot nowadays, which not only attract popularity but also keep the children entertained and even turn back and play many times. Today, we will introduce top five interactive games for you. Interactive floor projector is one of the most popular interactive projector games.
1. interactive floor projector
Through recognition interactive projector game system, the player directly uses the two feet or other actions to interact with the virtual projector scene. A variety of interactive effects will be changed accordingly with your action changes. It includes the underwater world,  UFO battle, defends the earth, and a dozen kinds of projector games. There are 20 games in total.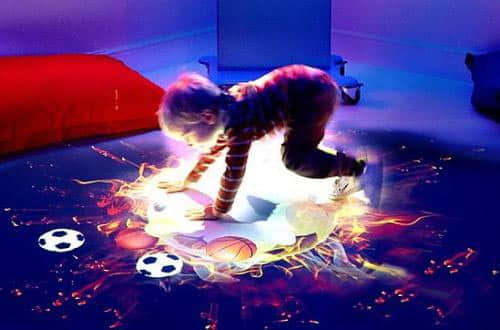 The specifications of interactive floor projector are as following: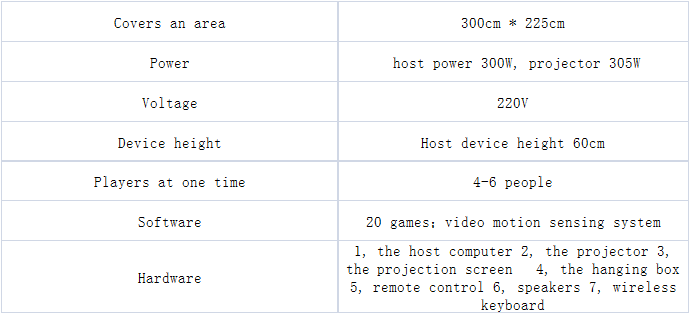 2. Wall interactive games equipment
Wall-Interactive equipment captures the player's motion and then uses system analysis to generate the captured object's motion. This motion data, combined with the real-time video interaction system, creates a tightly-knit interaction between the player and the screen. It contains 20 games, like cut fruit, block bombs, fireworks and more than a dozen games. It is a very good way to gather popularity and increase the interactive elements o the children playground.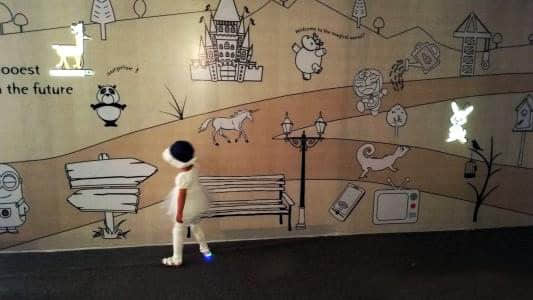 The following is the specification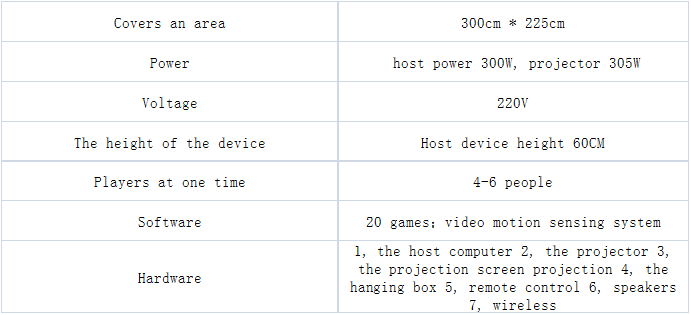 3. Soccer Interactive game
Making use of three-dimensional interactive technology, through a careful analysis of the characteristics of real football movement, it creates a 3D virtual space. Besides, It captures football track, monitor, and calculate,  therefore, an artificial intelligent goalkeeper is created. He will make a save action. It is better to realize the interaction between human and virtual environment, which belong to Interactive floor projector.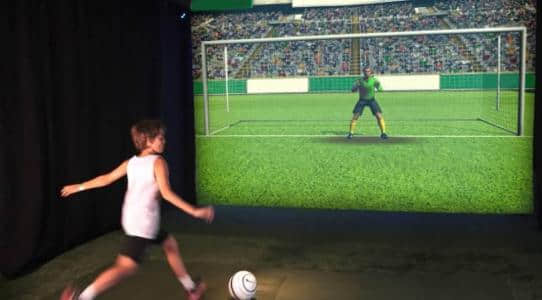 Its specification is as following: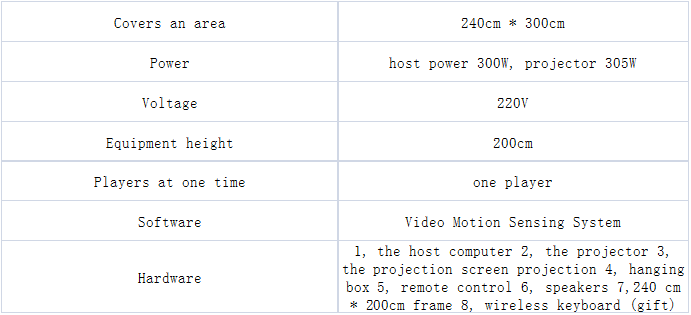 4. Interactive game projection slide
For a long time, in our mind, children just slide down from the different height. Now, interactive projection slide makes use of advanced computer vision technology and projection display technology to create a fantasy dynamic interactive experience.
In the player's body contact area, there will have a variety of interactive effects, allowing you to enter a virtual reality integration, also true and false Wonderful world. The interactive projector games include ripples, collisions, lasers, evasion, and other manifestations. So, the interactive projection slide gives the players a totally new interactive experience.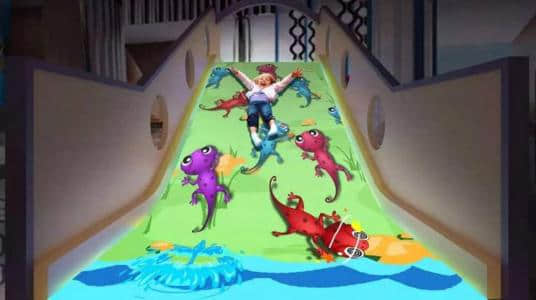 Specification: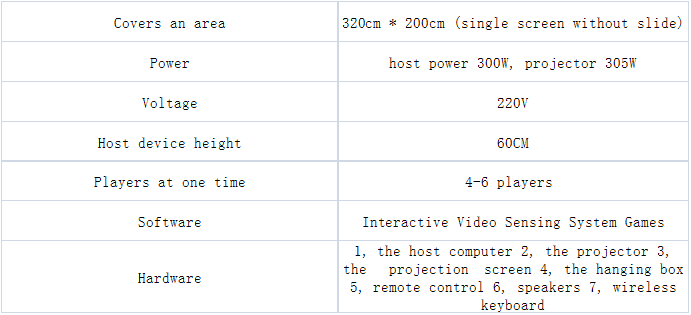 5. The interactive game ball hit equipment
3D interactive ball-throwing is the use of real-time video image recognition sensing technology, precisely capture the trajectory of each ball, well-crafted a stimulating fun virtual reality interactive interface. Without a doubt, It is very easy to increase the enthusiasm of children and increase lively popularity. It is as attractive as Interactive floor projector.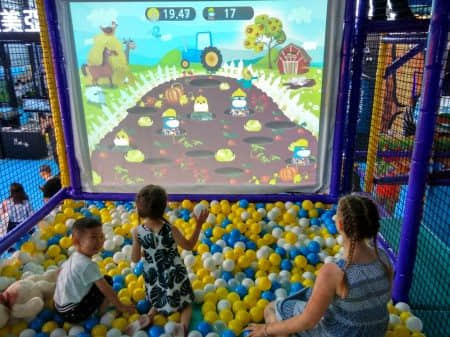 The following is specification: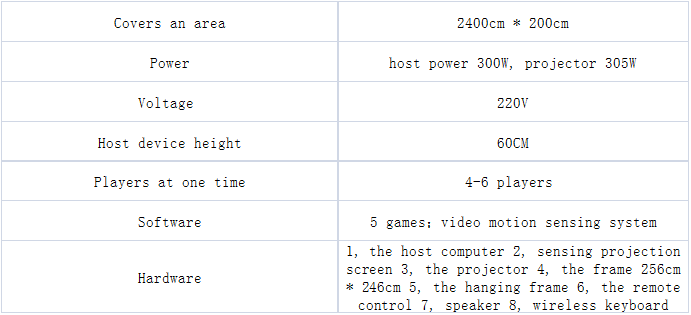 6.magic piano: interactive floor projector
Through the real piano keyboard, combined with LCD display and piano teaching software control together, all work as one of the electronic piano teaching machines. in addition, dedicated software to each of the first famous piano pieces of the analysis and conversion to the notes down one by one; at the exact time, the players fall on the designated key, follow the rhythm of the music animation.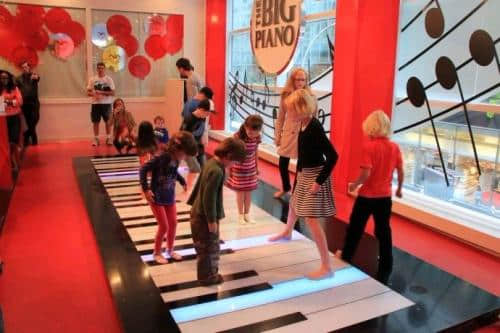 The details are as following: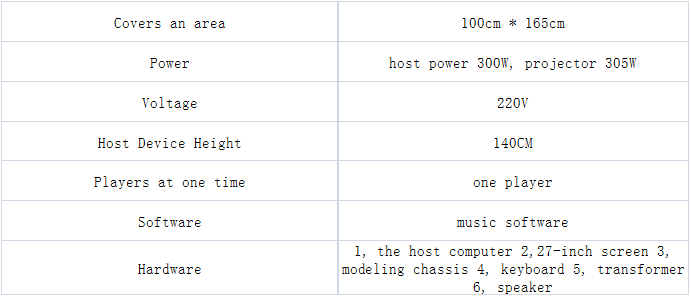 In the traditional indoor playground, children just play in the sandpit, ball pool, trampoline, tube slide and other structure games. Hence,  If you add interactive games to your children indoor playground, it will definitely attract more children and increase the popularity.
Therefore, Wonka Playground recommends that you add the latest indoor playground equipment, but not limited to interactive games.